Research and News
Upcoming Events
Landsat Image Service Archive (LISA) Project

The goal of the LISA project was to develop an image service archive in order to provide the research community with data and value-added products to support scientific inquiry. Approximately 25 years of Landsat 5 TM imagery of the Big Desert area of southeast Idaho were used for this project. The Big Desert is considered an important ecological area, as it is one of the last few areas of remaining sagebrush-steppe habitat for many sagebrush-obligate species such as the Greater Sage Grouse.

More information:
» Project objectives
» Project results
» LISA database video


LISA: Landsat Image Service Archive
LiDAR-derived carbon estimates in encroaching woodlands

Woody encroachment is thought to contribute significantly to the global carbon sink. The global- and continental-scale estimates of this contribution, however, have large uncertainties. The woody encroachment contribution to the carbon sink needs to be estimated at regional and local scales to address uncertainties as well as to balance restoration activities with greenhouse gas mitigation goals. Collaborators from Idaho State University, USGS, and USDA present a new technique to estimate above ground carbon storage in distinct encroachment phases of juniper woodlands in the South Mountain watershed, southwestern Idaho using 3-D lidar measurements of individual juniper trees.
Line-of-Sight Modeling with Terrestrial Laser Scanning and Airborne LiDAR

Idaho State University BCAL graduate student Jayson Murgoitio is developing a line-of-sight (LOS) model for vegetation attenuation using terrestrial laser scanning (TLS) and airborne LiDAR data. LOS models are useful for spatial reference and delineation of landscape features for applications such as infrastructure placement (e.g., wind towers, mobile phone towers) and military communications. Jayson is using point clouds from TLS and airborne lidar data to define the vegetation obstructions in a forested environment as input into the Beer-Lambert Law of Attenuation to predict visibility. The project is funded by ISU BCAL. TLS data were collected with support from INL through the INL-ISU Collaborative Remote Sensing Program and the airborne data were provided by Dr. Jeff Hicke, University of Idaho.



TLS image of forested area
Terrestrial Laser Scanning at Malad Gorge State Park

Researchers commonly use estimates of surface roughness within TLS datasets as a proxy for changing geologic units, vegetative cover, or other surface properties. However, this approach can fail if the surface being scanned deviates significantly from a flat plane, because the overall curvature of the surface contaminates the roughness estimates with spatially-correlated residual information. To overcome this limitation, University of Idaho researchers Ryan Pollyea and Jerry Fairley have developed a new algorithm that calculates surface roughness on a pixel-by-pixel basis, while correcting for local and global curvature of the dataset. The new method received its first field test at the Devil's Punchbowl in Malad Gorge State Park, near Hagerman, Idaho. Because of the "amphitheater" shape of the Devil's Punchbowl, traditional analysis methods add error that can vary from small (with a head-on scan angle) up to infinite (at scan angles near ninety degrees). The new method developed by the researchers was first published in the July 2011 issue of Geology, and a rigorous comparison between the new method and several popular alternatives, funded by a grant from Sigma Xi, is currently in press for Geosphere.

View a fly-through of TLS data from Malad Gorge on:



TLS at Malad Gorge
Box Canyon TLS (ground-based LiDAR) Fracture Analysis
Terrestrial laser scanning (TLS) and airborne LiDAR have proven to be useful tools for gathering large, detailed data on topography and, in some cases, vegetation and other types of land cover. However, University of Idaho researchers Ryan Pollyea and Jerry Fairley have been working to apply TLS technology to the modeling of groundwater flow and transport. The two members of the Department of Geological Sciences are studying fracture patterns in Eastern Snake River Plane basalt to better understand the unit's potential as a geologic carbon sequestration reservoir. Collection of a large dataset from the Box Canyon outcrop near Arco, Idaho, was accomplished using TLS. Using a new Orthogonal Distance Regression formula and the Idaho National Laboratory's High Performance Computation center, the researchers extracted information on fracture networks from the large point-cloud dataset. The software, designed and written in Fortran 2003 by Ryan Pollyea, uses a measure of surface roughness to recognize zones of fractured rock with a pixel resolution (fractured/non-fractured) of 6 cm by 6 cm. The researchers published their study in the July 2011 issue of the journal Geology.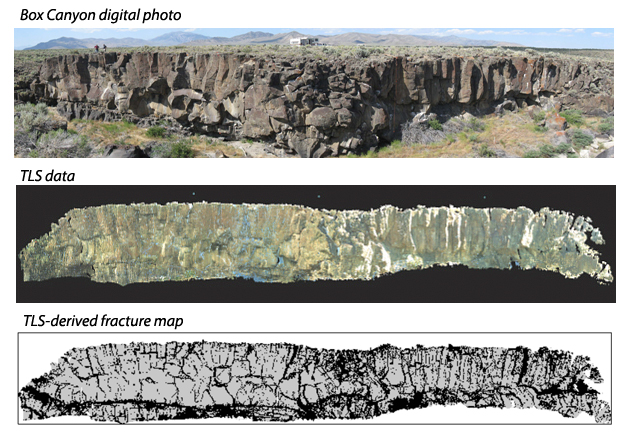 Box Canyon digital photo, TLS data, and fracture map
Idaho Wildfires
Numerous wildfires occur each year in Idaho as a result of natural causes and human activities. Many of these fires happen during the summer months when conditions are hot and dry, and are frequently exacerbated by wind. Daily MODIS imagery provided in near realtime allows monitoring and evaluation of wildfires and can be an important tool for fire management.
» Search MODIS wildfire imagery for Idaho by date.

MODIS Terra image of southwestern Idaho wildfires, Aug 16, 2011 (read more)
NASA image courtesy Jeff Schmaltz, MODIS Rapid Response Team, NASA GSFC.

Aerial photo of railroad trestle ablaze in Winchester Canyon, Sept 7, 2011
(credit: US Forest Service)(read more)